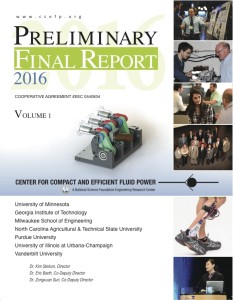 The CCEFP's Annual Reports are generated on a regular basis to demonstrate the initiatives and impacts of the previous year.
Historically, the Center for Compact and Efficient Fluid Power (CCEFP) has prepared an Annual Report for use by the National Science Foundation, Center faculty and students, and its industry supporters.  In years 1-10, CCEFP produced an Annual Report for the National Science Foundation.  Volume I of the Preliminary Final Report contains a summary of the Center's strategies, infrastructure, and the impact of its work over the previous 10 years. It also includes detailed information on personnel, budgets and sources of support. Volume II contains reports on each research, education and outreach projects.
The CCEFP will continue to produce a succinct annual impact report which will provide a high level summary of our work.
CCEFP Impact Reports
Historical Annual Reports:
Y4 Annual Report Volume 1 and Volume 2 (by request only)
Y3 Annual Report Volume 1 and Volume 2 (by request only)